Роль сучасних інформаційних технологій на заняттях з іноземної мови у ВНЗ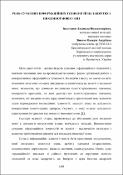 Publisher
Modern research in world science : The 11th International scientific and practical conference (Lviv, Ukraine, January 29-31, 2023). - Lviv, 2023. - P. 1104-1107
Abstract
Досліджено роль сучасних інформаційних технологій у вивченні іноземних мов та проаналізовано основні форми організації роботи з використанням інформаційних технологій. Визначено позитивні моменти використання комп'ютера на занятті з іноземної мови. Виокремлено принципи, на яких реалізується комп'ютеризоване навчання. Розглянуто етапи впровадження інноваційних технологій, звернуто увагу на доцільність використання комп'ютерних програм.
The role of modern information technologies in study of foreign languages ​​and analyzed the main forms of organization of work with using information technologies. The positive points of using a computer in a foreign language lesson are identified languages The principles on which computerized training is implemented are highlighted. The stages of the introduction of innovative technologies were considered, attention was paid to the expediency of using computer programs.
Исследована роль современных информационных технологий в изучении иностранных языков и проанализированы основные формы организации работы по использованием информационных технологий. Определены положительные моменты использования компьютера на занятии по иностранному языки. Выделены принципы, на которых реализуется компьютеризированное обучение. Рассмотрены этапы внедрения инновационных технологий, обращено внимание на целесообразность использования компьютерных программ.
Keywords
вищий навчальний заклад
,
institution of higher education
,
высшее учебное заведение
,
інформаційні технології
,
information technology
,
информационные технологии
,
Інтернет
,
Internet
,
Интернет
,
вивчення іноземних мов
,
learning foreign languages
,
изучение иностранных языков
Citation
Іванченко, Л. В. Роль сучасних інформаційних технологій на заняттях з іноземної мови у ВНЗ / Іванченко Людмила Володимирівна, Зіненко Валерія Андріївна // Modern research in world science : The 11th International scientific and practical conference (Lviv, Ukraine, January 29-31, 2023). - Lviv, 2023. - P. 1104-1107.