Психологічна діагностика рольової поведінки працівників ОВС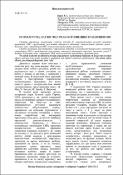 Publisher
Вісник Національного університету оборони України. - 2012. - Вип. 6(31). - С. 189-195
Abstract
Стаття присвячена розгляду сучасних підходів до психодіагностики рольової поведінки співробітників ОВС та представляє результати авторської адаптації опитувальника групових ролей Р. Белбіна.
The article is devoted to describing of main approaches to psychological diagnostic of group roles of police officers and shows the results of author's adaptation of R. Belbin's team roles questionnaire.
Статья посвящена рассмотрению современных подходов к психодиагностике ролевого поведения сотрудников ОВД и представляет результаты авторской адаптации опросника групповых ролей Р. Белбина.
Keywords
працівники органів внутрішніх справ
,
employees of internal affairs bodies
,
работники органов внутренних дел
,
психологічна діагностика
,
psychological diagnosis
,
психологическая диагностика
,
групові ролі
,
group roles
,
групповые роли
Citation
Барко, В. І. Психологічна діагностика рольової поведінки працівників ОВС / Барко В. І., Макаренко П. В. // Вісник Національного університету оборони України. - 2012. - Вип. 6(31). - С. 189-195.