Зміна властивостей особистості при ресоціалізації наркозалежних осіб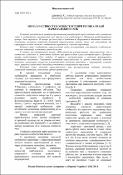 Authors
Publisher
Вісник Національного університету оборони України. - 2014. - Вип. 1(38). - С. 335-340
Abstract
В статті розглядається питання ефективності ресоціалізації наркозалежних осіб у контексті зміни їх особистісних властивостей при пригоді курсу реабілітації в Донецьком реабілітаційному центрі «Твоя перемога». В процесі ресоціалізації в особистості формуються адаптивні механізми. Складність механізму соціальної адаптації наркозалежних виникає тому, що взаємодіють дві структурно складні системи - особистість наркомана й соціальне середовище.
The article is considered the effectiveness of re-socialization of drug addicts in the context of changes in their personal characteristics during the course of re-socialization rehabilitation center in Donetsk "Your victory". In the process of re-socialization there are formed adaptive mechanisms of personality. Social adaptation of addicted persons at the individual level includes: the implementation of the mechanism of interaction between the individual addict with a specific microenvironment by adapting to it via communication, behavior, activity, assimilation of the norm , moral values of nearest positive social environment on the base of their rational awareness or interiorization, achieving of a state of adaptation via subject establishing of a dynamic balance between his personal attitudes and expectations of the social environment (in the presence of control of last one).
В статье рассматривается вопрос эффективности ресоциализации наркозависимых лиц в контексте изменения их личностных свойств при прохождении курса ресоциализации в Донецком центре реабилитации «Твоя победа». В процессе ресоциализации у личности формируются адаптивные механизмы. Социальная адаптация наркозависимых на уровне отдельной личности включает: реализацию механизма взаимодействия личности наркомана с микросредой; усвоение норм, моральных ценностей ближайшего позитивного социального окружения.
Keywords
наркозалежна особа
,
drug addict
,
наркозависимое лицо
,
ресоціалізація
,
resocialization
,
ресоциализация
,
властивості особистості
,
personality traits
,
свойства личности
,
соціальна адаптація
,
social adaptation
,
социальная адаптация
,
самооцінка
,
self-esteem
,
самооценка
,
рівень домагань
,
level of harassment
,
уровень притязаний
Citation
Штейн, Н. Г. Зміна властивостей особистості при ресоціалізації наркозалежних осіб / Штейн Н. Г. // Вісник Національного університету оборони України. - 2014. - Вип. 1(38). - С. 335-340.