Адаптивний потенціал старших підлітків в умовах пандемії COVID-19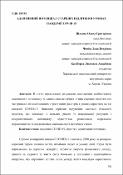 Publisher
World science: problems, prospects and innovations: The 4 th International scientific and pra ctical conference ( Toronto, Canada, December 23-25, 2020). - Toronto, 2020. - P. 743-747
Abstract
В статті представлені результати дослідження особистісного адаптивного потенціалу та самооцінки психічних станів старших підлітків під час тривалої дії комбінованих стресогенних факторів в умовах карантину на тлі пандемії СOVID-19. Виявлено серйозні порушення адаптації більшості підлітків, що пов'язано з низьким рівнем їх поведінкової регуляції і комунікативного потенціалу, недостатньо розвиненою моральною нормативністю та неадекватною оцінкою своїх психічних станів.
The article presents the results of personal research adaptive potential and self-assessment of mental states of older teenagers under time of long-term action of combined stressogenic factors in conditions of quarantine on the background the COVID-19 pandemic. Majority of adaptation disorders were found teenagers, which is associated with a low level of their behavioral regulation and communicative potential, insufficiently developed moral normativity and inadequate assessment of one's mental states.
В статье представлены результаты исследования личностного адаптивного потенциала и самооценки психических состояний старших подростков во время длительного действия комбинированных стрессогенных факторов в условиях карантина на фоне пандемии СOVID-19. Выявлены серьезные нарушения адаптации большинства подростков, что связано с низким уровнем их поведенческой регуляции и коммуникативного потенциала, недостаточно развитой моральной нормативностью и неадекватной оценкой собственных психических состояний.
Keywords
пандемія COVID-19
,
підлітки
,
адаптивний потенціал
,
психічний стан
,
COVID-19 pandemic
,
adolescents
,
adaptive potential
,
mental state
,
пандемия COVID-19
,
подростки
,
адаптивный потенциал
,
психическое состояние
Citation
Шахова, О. Г. Адаптивний потенціал старших підлітків в умовах пандемії COVID-19 / Шахова Олена Григорівна, Чепіга Лада Петрівна, Калiберда Людмила Андріївна // World science: problems, prospects and innovations: The 4 th International scientific and pra ctical conference ( Toronto, Canada, December 23-25, 2020). - Toronto, 2020. - P. 743-747.