Conceptual basis of national energy security against the backdrop of global challenges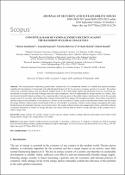 Publisher
Journal of Security and SustainabilityIssues. – 2020. – № 10 (1). – Р. 329-343
Abstract
У статті дано теоретичне узагальнення та надано обґрунтоване вирішення науково-практичної проблеми розробки теоретико-методологічних основ забезпечення енергетичної безпеки країни. Автори провели детальний аналіз та вказали провідні тенденції світового енергетичного ринку та отримання ресурсів, досліджували розподіл країн у питанні виробництва та споживання енергії, що є основним для енергетичної безпеки країни.
The article presents theoretical generalization and provides the substantiated solution of scientifc and practical problem regarding the development of theoretical and methodological framework for the assurance of energy security of a country. The authors carried out a detailed analysis and specifed the leading trends in the world energy market and obtaining resources, researched the distribution of countries in the issue of energy production and consumption, which is fundamental for energy security of a country.
В статье дано теоретическое обобщение и дано обоснованное решение научно-практической проблемы разработки теоретико-методологических основ обеспечения энергетической безопасности страны. Авторы провели детальный анализ и указали ведущие тенденции мирового энергетического рынка и получения ресурсов, исследовали распределение стран в вопросе производства и потребления энергии, что является основополагающим для энергетической безопасности страны.
Description
Conceptual basis of national energy security against the backdrop of global challenges / Viktoria Samoilenko, Ievgeniia Kopytsia, Victoriya Belevtseva, Yevhenii Skulysh, Oleksii Shumilo // Journal of Security and SustainabilityIssues. – 2020. – № 10 (1). – Р. 329-343. – DOI: https://doi.org/10.9770/jssi.2020.10.1(24)
Keywords
Наукові публікації. Scientific publications. Научные публикации
,
Економічні науки. Економічна безпека. Economics. Economic Security. Экономические науки. Экономическая безопасность
,
Україна. Ukraine. Украина
,
енергетична безпека країни
,
потенціал енергетичної безпеки
,
енергетичні ресурси
,
енергоефективність та енергозбереження
,
світовий енергетичний ринок
,
енергетичні ризики
,
енергетична політика країни
,
energy security of a country
,
energy security capacity
,
energy resources
,
energy efciency and energy conservation
,
world energy market
,
energy risks
,
energy policy of a country
,
энергетическая безопасность страны
,
потенциал энергетической безопасности
,
энергетические ресурсы
,
энергоэффективность и энергосбережение
,
мировой энергетический рынок
,
энергетические риски
,
энергетическая политика страны
Collections