Соціальні уявлення поліцейських як складова їх особистісно-професійної відповідальності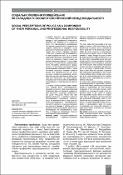 Publisher
Габітус. - 2020. - Вип. 12, т. 1. - С. 229-232
Abstract
Зазначено, що відповідальність є основною якістю особистості, яка концентрує в собі усвідомлений особистістю обов'язок та виявляється її моральною рисою. У сучасних соціокультурних умовах професійно значуща якість «відповідальність» визначається як один з факторів оптимізації професійної діяльності фахівців, найважливіший компонент структури особистості, що сприяє підвищенню якості його професійної діяльності. У контексті вивчення відповідальності поліцейських наголошується на доцільності вести мову саме про особистісно-професійну відповідальність, яка суб'єктивується у соціально-психологічних уявленнях фахівців. Виявлено особливості уявлень щодо причин відповідальної та безвідповідальної поведінки у патрульних поліцейських первинної та вторинної професіоналізації.
he paper states that responsibility is the main quality of a person, which concentrates the duty perceived by the person and is manifested by his/her moral trait. For the functioning of responsibility, the moral constructs of consciousness are important as specific means of moral interpretation of reality, through the prism of which the subject perceives reality and himself in it. On the other hand, responsibility cannot exist without will, which is a mental mechanism of spiritual self-development of the individual as a practical side of the psyche, which includes self-analysis of one's own style of cooperation with other people, In this context, a special motive of human actions, which differs from all others, is personal and professional responsibility as only inherent in human inherent trait of ideality, which contributes to the moral development of the individual and does not turn responsibility into a means to achieve useful goals. In modern socio-cultural conditions, professionally significant quality of "responsibility" is defined as one of the factors optimizing the professional activities of professionals, the most important component of the personality structure, which contributes to improving the quality of his professional activity. In the context of studying the responsibility of police officers, it is emphasized that it is expedient to talk about personal and professional responsibility, which is subjected in the socio-psychological ideas of professionals. The paper empirically reveals the peculiarities of representations about the causes of responsible and irresponsible behaviour in patrol police officers of primary and secondary professionalization.
Отмечено, что ответственность является основным качеством личности, концентрирующей в себе осознанную личностью обязанность и оказывается ее нравственной чертой. В современных социокультурных условиях профессионально значимое качество "ответственность" определяется как один из факторов оптимизации профессиональной деятельности специалистов, важнейший компонент структуры личности, способствующий повышению качества его профессиональной деятельности. В контексте изучения ответственности полицейских отмечается целесообразность говорить именно о личностно-профессиональной ответственности, которая субъективируется в социально-психологических представлениях специалистов. Выявлены особенности представлений о причинах ответственного и безответственного поведения у патрульных полицейских первичной и вторичной профессионализации.
Description
Соколов, О. А. Соціальні уявлення поліцейських як складова їх особистісно-професійної відповідальності / Соколов О. А. // Габітус. - 2020. - Вип. 12, т. 1. - С. 229-232. - DOI https://doi.org/10.32843/2663- 5208.2020.12-1.40.
Keywords
Психологія. Рsychology. Психология
,
Наукові публікації. Scientific publications. Научные публикации
,
Юридична психологія. Legal psychology. Юридическая психология
,
Україна. Ukraine. Украина
,
поліцейські
,
police officers
,
полицейские
,
особистісно-професійна відповідальність
,
personal and professional responsibility
,
личностно-профессиональная ответственность
,
відповідальність
,
responsibility
,
ответственность
,
соціально-психологічні уявлення
,
socio-psychological ideas
,
социально-психологические представления
,
відповідальна поведінка
,
responsible behavior
,
ответственное поведение
,
безвідповідальна поведінка
,
irresponsible behavior
,
безответственное поведение