Short-term memory training of students during foreign language learning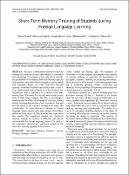 Publisher
Universal Journal of Educational Research. – 2020. – № 8 (4). – Р. 1596-1604
Abstract
Дослідження присвячене тренуванню короткочасної пам'яті у студентів вузів, що спеціалізуються на письмовому та усному перекладі. Ціль дослідження полягала в тому, щоб розглянути можливості збільшення обсягу короткочасної пам'яті у студентів, які вивчають французьку мову, шляхом регулярних занять мовою. Експеримент показав, що тренування короткочасної пам'яті у студентів ефективне і може бути рекомендоване для занять іноземною мовою. Результат експерименту продемонстрував значне збільшення обсягу короткочасної пам'яті учнів.
Research is dedicated to short-term memory training for university students specializing in translation and interpreting. The purpose of the study was to consider the possibilities of increasing short-term memory capacity of the students who study French by regular training during their language classes. To check short-term memory capacity, a method of random reproduction was chosen. It is an experimental method based on a list of words that respondents have to reproduce in a random order after hearing them. The words for the tests were chosen on the basis of their usage, imagery, the effect of phonological similarity and the effect of the length of the word. During testing, the physiological state of the respondents, their age and the speed of the teacher's reading were taken into consideration. To train short-term memory in French language classes, special tasks were created, and students performed them as part of class activities over a period of two months. The experiment showed that short-term memory training for students is effective and can be recommended for foreign language classes. The result of the experiment demonstrated significant growth in the short-term memory capacity of the students
Исследование посвящено тренировке кратковременной памяти у студентов вузов, специализирующихся на письменном и устном переводе. Цель исследования состояла в том, чтобы рассмотреть возможности увеличения объема кратковременной памяти у студентов, изучающих французский язык, путем регулярных занятий языком. Эксперимент показал, что тренировка кратковременной памяти у студентов эффективна и может быть рекомендована для занятий иностранным языком. Результат эксперимента продемонстрировал значительное увеличение объема кратковременной памяти учащихся.
Description
Short-term memory training of students during foreign language learning / Olena Bratel, Maryna Kostiuk, Sergiy Bratel, Ivan Okhrimenko, Volodymyr Filonenko // Universal Journal of Educational Research. – 2020. – № 8 (4). – Р. 1596-1604. – DOI: https://doi.org/10.13189/ujer.2020.080453
Keywords
Наукові публікації. Scientific publications. Научные публикации
,
Україна. Ukraine. Украина
,
Освіта. Педагогіка. Education. Pedagogy. Образование. Педагогика
,
іноземні мови
,
тренування пам'яті
,
короткочасна пам'ять
,
студенти
,
foreign languages
,
memory training
,
short-term memory
,
students
,
иностранные языки
,
тренировка памяти
,
краткосрочная память
,
студенты
Collections