Development and application of innovative technologies in the process of remote education of Ukraine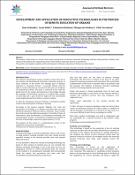 Publisher
Journal of Critical Reviews. – 2020. – Vol. 7, Issue 12. – P. 1251-1253
Abstract
Суть статті полягає в огляді основних існуючих форм технології дистанційної освіти та їх характеристик. На основі результатів аналізу пропонуються рівні організації процесу дистанційної освіти. Визначено позитивні та негативні якості розвитку дистанційної освіти в Україні.
The essence of the article is a review of the main existing forms of distance education technology and their characteristics. Based on the results of the analysis, the organization levels of the distance education process are proposed. The positive and negative qualities of the development of distance education in Ukraine are determined.
Суть статьи заключается в осмотре основных существующих форм технологии дистанционного образования и их характеристик. На основе результатов анализа предлагаются уровнb организации процесса дистанционного образования. Определены положительные и отрицательные качества развития дистанционного образования в Украине.
Description
Development and application of innovative technologies in the process of remote education of Ukraine / Inna Ivzhenko, Iryna Sokol, Valentyna Kochyna and ot. // Journal of Critical Reviews. – 2020. – Vol. 7, Issue 12. – P. 1251-1253. – DOI: http://dx.doi.org/10.31838/jcr.07.12.218.
Inna Ivzhenko, Iryna Sokol, Valentyna Kochyna, Margaryta Noskova, Liliia Yeromina. "DEVELOPMENT AND APPLICATION OF INNOVATIVE TECHNOLOGIES IN THE PROCESS OF REMOTE EDUCATION OF UKRAINE." Journal of Critical Reviews 7.12 (2020), 1251-1253. Print. doi:10.31838/jcr.07.12.218
Keywords
sience preparetion
,
higher education institution training
,
principle of clarity
,
pedagogy
,
distance education technology
,
special disciplines
,
Освіта. Педагогіка. Education. Pedagogy. Образование. Педагогика
,
Наукові публікації. Scientific publications. Научные публикации
,
Україна. Ukraine. Украина
,
технологии дистанционного обучения
,
технологія дистанційної освіти
,
distance education
,
дистанційна освіта
,
дистанционное обучение