IT - Education In The Context Of Educational Activities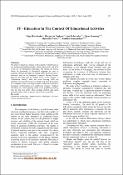 Publisher
IJCSNS: International Journal of Computer Science and Network Security. - 2021. - Vol. 21, № 6 (June). - P. 151-155
Abstract
Розглянуто модель, у контексті якої два основні елементи – базові бібліотечні навички та навички у використанні інформаційних технологій. Перші формуються в рамках освітніх програм для користувачів академічних бібліотек, останні формуються в рамках такої ініціативи як ECDL (Європейські комп'ютерні права) (незалежна міжнародна сертифікація навичок володіння персональним комп'ютером). Між базовим та вищим рівнями концепції "інформаційної грамотності" існує сім категорій навичок та якостей, регулярна практика яких веде від позиції компетентного користувача до експертного рівня усвідомлення та критичного сприйняття інформації як інтелектуального ресурсу.
The article is based on a model, in the context of which there are two fundamental building blocks of basic library skills and skills in the use of information technology. The former are formed within the framework of educational programs for users of academic libraries, the latter are formed within the framework of initiatives such as the European Computer Driving License. Between the basic and the highest levels of the concept of "information literacy" there are seven heading skills and attributes, the repeated practice of which leads from the position of a competent user to an expert level of reflection and critical awareness of information as an intellectual resource. Freshmen will likely be at the beginning of the arrow, probably practicing only the first four skills, while graduate students and young scientists will be closer to the end and will use seven skills.
Рассмотрена модель, в контексте которой два основополагающих элемента базовые библиотечные навыки и навыки в использовании информационных технологий. Первые формируются в рамках образовательных программ для пользователей академических библиотек, последние формируются в рамках такой инициативы, как ECDL (Европейские компьютерные права)(независимая международная сертификация навыков владения персональным компьютером). Между базовым и высшим уровнями концепции "информационной грамотности" существует семь категорий навыков и качеств, регулярная практика которых ведет от позиции компетентного пользователя к экспертному уровню осознания и критического восприятия информации как интеллектуального ресурса.
Description
IT - Education In The Context Of Educational Activities / Olga Marchenko, Margaryta Noskova, Igor Fedorenko, Olena Semenog, Myroslava Vovk, Ruslana Romanyshyn // IJCSNS: International Journal of Computer Science and Network Security. - 2021. - Vol. 21, № 6 (June). - P. 151-155. - DOI: https://doi.org/10.22937/IJCSNS.2021.21.6.20.
Keywords
Освіта. Педагогіка. Education. Pedagogy. Образование. Педагогика
,
Наукові публікації. Scientific publications. Научные публикации
,
Техніка. Технічні науки. Machinery. Engineering. Техника. Технические науки
,
інформаційні технології
,
information technology
,
информационные технологии
,
система освіти
,
education system
,
образовательная система
,
комунікаційні технології
,
communication technologies
,
коммуникационные технологии
,
навчальний процес
,
learning process
,
учебный процесс