Analytical support for organizations' economic and environmental safety management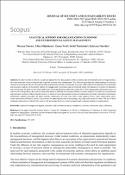 Publisher
Journal of Security and Sustainability. – 2019. – № 8 (3). – Р. 413-422
Abstract
З метою формування ефективного аналітичного забезпечення управління економічною та екологічною безпекою організацій обґрунтовано вихідні позиції еколого-економічного аналізу. Це дозволило розширити уявлення про економічний аналіз у забезпеченні ефективної взаємодії організації з навколишнім середовищем. У результаті дослідження методів еколого-економічного аналізу пріоритетних об'єктів управління економічною та екологічною безпекою встановлено відсутність системи показників та механізму їх використання, що значно знижує рівень якості інформаційного простору управління.
In order to form an effective analytical support for the management of the economic and environment safety of organizations, the initial positions of environmental and economic analysis were substantiated. This allowed expanding the understanding of economic analysis in ensuring the effective interaction of the organization with the environment. As a result of the study of the methods of environmental and economic analysis of the priority objects of management of economic and environment safety, the absence of a system of indicators and a mechanism for their use has been established, which significantly reduces the quality level of the management information space. In order to solve this problem, the work developed the author's methods of environmental and economic analysis:1) models of environmental and economic analysis of the production process in terms of waste management (proposed calculation procedure, interaction mechanism, information support, procedure for factor models construction of waste cost ratios, waste capacity ratios, waste replacement ratios, waste replacement efficiency ratios); 2) procedure for analyzing the cost of processing, recycling and disposal of waste. The use of these techniques allowed us to identify the reserves for increasing the level of environmental and economic security of organizations.
С целью формирования эффективного аналитического обеспечения управления экономической и экологической безопасностью организаций обоснованы исходные положения эколого-экономического анализа. Это позволило расширить понимание экономического анализа в обеспечении эффективного взаимодействия организации с внешней средой. В результате изучения методов эколого-экономического анализа приоритетных объектов управления экономической и экологической безопасностью установлено отсутствие системы показателей и механизма их использования, что существенно снижает уровень качества информационного пространства управления.
Description
Analytical support for organizations' economic and environmental safety management / Maryna Chorna, Liliya Filipishyna, Ganna Nord, Serhii Tkachenko, Kateryna Velychko // Journal of Security and Sustainability. – 2019. – № 8 (3). – Р. 413-422. – DOI: https://doi.org/10.9770/jssi.2019.8.3(10)
Chorna, M.; Filipishyna, L.; Nord, G.; Tkachenko, S.; Velychko, K., 2019. Analytical support for organizations' economic and environmental safety management, Journal of Security and Sustainability Issues 8(3): 413-422. http://doi.org/10.9770/jssi.2019.8.3(10)
Keywords
Наукові публікації. Scientific publications. Научные публикации
,
Україна. Ukraine. Украина
,
Економічні науки. Економічна безпека. Economics. Economic Security. Экономические науки. Экономическая безопасность
,
аналітична управлінська підтримка
,
економічна та екологічна безпека
,
ефективність
,
інформаційний простір
,
механізм
,
резерви
,
analytical management support
,
economic and environment safety
,
efficiency
,
information space
,
mechanism
,
reserves
,
аналитическая управленческая поддержка
,
экономическая и экологическая безопасность
,
эффективность
,
информационное пространство
,
механизм
,
резервы
Collections