Особливості роботи психолога з дітьми, що постраждали від домашнього насильства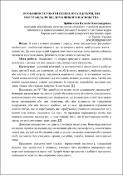 Publisher
Modern Research in World Science: Proceedings of the 1st International scientific and practical conference ( Lviv, Ukraine, 17-19 April 2022). - Львів, 2022. - С. 817-822
Abstract
Висвітлено та охарактеризовано окремі аспекти роботи психолога з дітьми, які постраждали від домашнього насильства, зокрема своєчасне виявлення та подолання чинників, що призводять до насильства, удосконалення шляхів профілактики та надання фахової психологічної допомоги жертвам домашнього насильства.
Certain aspects of a psychologist's work with children affected by domestic violence are highlighted and characterized, in particular, timely identification and overcoming of factors that lead to violence, improvement of prevention methods and provision of professional psychological assistance to victims of domestic violence.
Освещены и охарактеризованы отдельные аспекты работы психолога с детьми, которые пострадали от домашнего насилия, в частности, своевременное выявление и преодоление факторов, приводящих к насилию, совершенствование путей профилактики и оказание профессиональной психологической помощи жертвам домашнего насилия.
Description
Прібиткова, Н.О. Особливості роботи психолога з дітьми, що постраждали від домашнього насильства / Н. О. Прібиткова // Modern Research in World Science: Proceedings of the 1st International scientific and practical conference ( Lviv, Ukraine, 17-19 April 2022). - Львів, 2022. - С. 817-822.
Keywords
Психологія. Рsychology. Психология
,
Наукові публікації. Scientific publications. Научные публикации
,
насильство
,
домашнє насильство
,
психолог
,
діти, які постраждали від домашнього насильства
,
дитина
,
діти-жертви
,
насилие
,
домашнее насилие
,
практический психолог
,
violence
,
domestic violence
,
practical psychologist
,
survey phases