Становлення військового права на українських землях у V cт. до н.е. – XVI ст.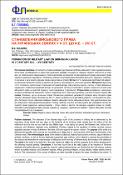 Publisher
Форум Права. – 2022. – № 2 (73). – С. 94-101
Abstract
Наголошено, що проблеми, пов'язані з регламентацією військової діяльності, набувають особливого значення в часи захисту держави Україна від російської агресії. Визначено особливості джерел і основних рис військового права на українських землях у часи утворення української держави. З'ясовано, що на начальних етапах становлення української державності провідне місце посідали норми звичаїв і звичаєвого права. Починаючи з XIV ст., звичаї залишаються як допоміжні джерела, а на перший план виходять Литовські статути, військові (князівські) привілеї, військові статути, військові артикули. Таке удосконалення джерел військового права дозволило розширити палітру проблем, яку вони регламентували. До традиційних питань військового права додаються цивільно-правові – статус земель і маєтків, які монархи надавали воїнам за службу, можливість розпорядження ними (продаж, передача у спадщину) і кримінально-правові – перелік військових злочинів та відповідальність за їх вчинення.
The relevance of the historical-legal study of the problems of military law is determined by the importance of the events that took place on the territories of the Ukrainian state, starting from the middle of the first millennium until the new era and until the early Middle Ages. It was during this period that Ukrainian law, military law in particular, and Ukrainian statehood were established. Problems related to the regulation of military activities become especially important in times of defense of the state of Ukraine against the russian invasion. The purpose of the article is to determine the specifics of the sources and main features of military law on Ukrainian lands at the time of the formation of the Ukrainian state. The methodological basis of the article is dialectical, historical and systemic methods, logical methods of analysis, synthesis, as well as formally legal and comparative legal methods, which allowed to consider the peculiarities of the sources and determine the main features of military law on the territory of Ukraine during the formation of its statehood. The result of the study is the definition of the main features of military law and the prospects for its further development in the following historical periods. It has been found that at the initial stages of the formation of Ukrainian statehood, the leading place was occupied by norms of customs and customary law. Starting from the 14th century, customs remain as auxiliary sources, and Lithuanian statutes, military (princely privileges), military statutes, military articles come to the fore. This improvement of the sources of military law made it possible to expand the range of problems they solved. To the traditional issues of military law are added civil law – the status of lands and estates that monarchs gave to soldiers for service, the possibility of their inheritance, and criminal law - responsibility for war crimes.
Отмечено, что проблемы, связанные с регламентацией военной деятельности, приобретают особое значение во время защиты государства Украины от российской агрессии. Определены особенности источников и основных черт военного права на украинских землях во время образования украинского государства. Выяснено, что на начальных этапах становления украинской государственности ведущее место занимали нормы обычаев и обычного права. Начиная с XIV в., обычаи остаются вспомогательными источниками, а на первый план выходят Литовские уставы, военные (княжеские) привилегии, военные уставы, военные артикулы. Такое усовершенствование источников военного права позволило расширить палитру проблем, которую они регламентировали. К традиционным вопросам военного права прилагаются гражданско-правовые – статус земель и имений, предоставляемых монархами воинам за службу, возможность распоряжения ими (продажа, передача по наследству) и уголовно-правовые – перечень военных преступлений и ответственность за их совершение.
Description
Головко, Б. Г. Становлення військового права на українських землях у V cт. до н.е. – XVI ст. [Електронний ресурс] / Б. Г. Головко // Форум Права. – 2022. – № 2 (73). – С. 94-101. - Режим доступу: http://forumprava.pp.ua/files/094-101-2022-2-FP-Golovko_10.pdf.
Головко, Б. Г. (2022). Становлення військового права на українських землях у V cт. до н.е. – XVI ст. Форум Права, 73(2), 94–101. http://doi.org/10.5281/zenodo.6731698.
Golovko, B. G. (2022). Stanovlennya viyskovoho prava na ukrayinskykh zemlyakh u V st. do n.e. – XVI st. [Formation of Military Law on Ukrainian Lands in V Century B.C. – XVI Century]. Forum Prava, 73(2), 94–101. http://doi.org/10.5281/zenodo.6731698.
Keywords
Держава і право. State and Law. Государство и право
,
Наукові публікації. Scientific publications. Научные публикации
,
Історія. History. История
,
Україна. Ukraine. Украина
,
історико-правовий аналіз
,
historical and legal analysis
,
историко-правовой анализ
,
джерело права
,
source of law
,
источник права
,
військове право
,
military law
,
военное право
,
військовий статут
,
military statute
,
военный устав
,
військовий артикул
,
military article
,
военный артикул
,
військовий злочин
,
military crime
,
военное преступление