Підстави оскарження повідомлення про підозру у кримінальному провадженні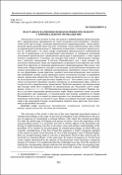 Authors
Publisher
Науковий вісник публічного та приватного права. - 2019. - Вип. 5, т. 2. - С. 263-267
Abstract
Актуальність статті полягає в тому, що однією з найважливіших процесуальних дій у кримінальному провадженні на стадії досудового розслідування є повідомлення особі про підозру у вчиненні кримінального правопорушення, з яким кримінальний процесуальний закон пов'язує початкову стадію притягнення такої особи до кримінальної відповідальності. Зважаючи на важливість зазначеної процесуальної дії, необхідним є не лише суворе дотримання процесуального законодавства під час її проведення, але й розроблення однозначного та однакового розуміння учасниками кримінального провадження процедури її проведення, в чому наразі існують суперечності.
The relevance of the article is that one of the most important procedural actions in criminal proceedings at the stage of pre-trial investigation is the notification to the person of suspicion of committing a criminal offense, with which the criminal procedural law links the initial stage of bringing such person to justice. Given the importance of the said procedural action, it is necessary not only to strictly adhere to the procedural law during its implementation, but also to develop a clear and uniform understanding of the procedure of its conduct by the participants in criminal proceedings, in which there are currently contradictions. It has been found that suspicion is itself a minimum standard in the context of proof. From the point of view of the European Court of Human Rights, there are enough minimal signs to convince a third-party observer that a person may be involved in a criminal offense. At the same time, the notion of suspicion is, for the local courts, largely determined by the opinion of the prosecutor when choosing a suspected measure of restraint. It is emphasized that the established case-law from the moment of making the corresponding changes indicates the unwillingness of the investigating judges to analyse the announced suspicion and to examine the evidence, which it substantiates, referring to the fact that the evidence is examined by the court when considering the merits of the case. Thus, the investigating judges do not actually exercise the function of judicial control over the observance of the rights, freedoms and interests of persons in criminal proceedings. It is concluded that the notification of suspicion may be appealed as a procedural action, and the basis for its appeal, according to paragraph 1 of Part 1 of Art. 303 of the CPC of Ukraine, violations of procedural rules may serve. It should be noted that if the pre-trial investigation is already completed, then the suspicion report is not contested. Although it is explicitly stated in the norm, defence attorneys still apply to the investigating judge. If the trial court granted the suspicion dismissal without due time, it would most likely be overturned on appeal.
Актуальность статьи состоит в том, что одной из важнейших процессуальных действий в уголовном производстве на стадии досудебного расследования есть сообщение лицу о подозрении в совершении уголовного правонарушения, с которым уголовный процессуальный закон связывает начальную стадию привлечения такого лица к уголовной ответственности.
Keywords
кримінальне провадження
,
оскарження
,
повідомлення про підозру
,
процесуальна дія
,
досудове розслідування
,
criminal proceeding
,
appeal
,
message about suspicion
,
legal proceeding
,
pre-judicial investigation
,
уголовное производство
,
обжалование
,
сообщение о подозрение
,
процессуальное действие
,
досудебное расследование
Citation
Холондович, І. І. Підстави оскарження повідомлення про підозру у кримінальному провадженні / Холондович І. І. // Науковий вісник публічного та приватного права. - 2019. - Вип. 5, т. 2. - С. 263-267. - DOI: https://doi.org/10.32844/2618-1258.2019.5-2.47.