Legal framework of environmental control for combating climate change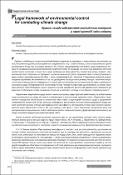 Publisher
Visegrad journal on human rights. – 2019. – № 6 (Vol. 2). – P. 230-235
Abstract
Розглянуто аспекти необхідності реформування екологічного контролю та притягнення до відповідальності винних осіб у разі порушення законодавства щодо зміни клімату. Проведено аналіз нормативного забезпечення та виявлено проблеми практичної реалізації притягнення винних осіб за порушення екологічного законодавства. Запропоновано посилити громадський контроль у цій сфері.
The issues of the necessity to reform environmental control and liability of people guilty of breaching legislation on climate change have been considered in the article. The author has analyzed the legal framework and found out the problems of bringing guilty persons liable for violating environmental laws on practice. It has been suggested to increase public control in the field.
Рассмотрены аспекты необходимости реформирования экологического контроля и привлечения к ответственности виновных в случае нарушения законодательства об изменении климата. Проведен анализ нормативного обеспечения и выявлены проблемы практической реализации привлечения виновных за нарушение экологического законодательства. Предложено усилить общественный контроль в данной сфере.
Description
Shumilo, O. Legal framework of environmental control for combating climate change / Oleksii Shumilo // Visegrad journal on human rights. – 2019. – № 6 (Vol. 2). – P. 230-235.
Keywords
Адміністративне право та процес. Administrative Law and Procedure. Административное право и процесс
,
Наукові публікації. Scientific publications. Научные публикации
,
Україна. Ukraine. Украина
,
Екологічне право. Environmental law. Экологическое право
,
клімат
,
climate
,
климат
,
Паризька угода
,
Paris agreement
,
Парижское соглашение
,
екологічний контроль
,
environmental control
,
экологический контроль
,
юридична відповідальність
,
legal responsibility
,
юридическая ответственность
,
атмосферне повітря
,
atmospheric air
,
атмосферный воздух
,
правове забезпечення
,
legal support
,
правовое обеспечение
,
publikatsii u zarubizhnomu vydanni