Кримінологічна типологія осіб, які вчиняють втягнення неповнолітніх у злочинну діяльність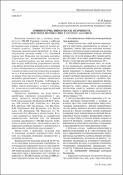 Authors
Publisher
Прикарпатський юридичний вісник. – 2018. – Вип. 1 (22). – С. 194-197
Abstract
У статті здійснено типологію осіб, які вчиняють втягнення неповнолітніх у злочинну діяльність, в результаті чого за трьома критеріями виділено одинадцять кримінологічних типів злочинців й чотири окремі їх підтипи. Надано характеристику кожному з них.
The article provides typology of persons committing engaging minors in criminal activity, as a result of which eleven criminological types of offenders were outlined as well as their four separate subtypes. Each of them received a specific characteristic.
В статье представлена типология лиц, совершающих вовлечение несовершеннолетних в преступную деятельность, в результате которой на основании трёх критериев выделено одиннадцать криминологических типов преступников и четыре отдельных подтипа. Дана характеристика каждому из них.
Description
Ситнік, О. М. Кримінологічна типологія осіб, які вчиняють втягнення неповнолітніх у злочинну діяльність / О. М. Ситнік // Прикарпатський юридичний вісник. – 2018. – Вип. 1 (22). – С. 194-197.
Keywords
Кримінологія. Criminology. Криминология
,
Наукові публікації. Scientific publications. Научные публикации
,
Україна. Ukraine. Украина
,
злочинна діяльність
,
преступная деятельность
,
criminal activity
,
втягнення у злочинну діяльність
,
вовлечение в преступную деятельность
,
involvement in criminal activity
,
неповнолітні
,
несовершеннолетние
,
minors
,
особа злочинця
,
личность преступника
,
identity of the offender
,
кримінологічний тип
,
криминологический тип
,
criminological type