Assessment of the conclusions of molecular genetic examination in the investigation of crimes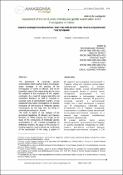 Publisher
Amazonia Investiga. – 2020. – Vol 9, No 25. – P. 479 - 486
Abstract
У практиці розслідування злочинів в Україна зростає значення молекулярно-генетичних експертиз, в яких проводиться аналіз слідів біологічного походження. Одним з важливих етапів експертного дослідження і його використання в доведенні є оцінка висновку експерта. В результаті вивчення наукової і методичної літератури, а також матеріалів кримінальних справ про умисні вбивства було встановлено, що в Україні експертна, слідча і судова оцінка висновків молекулярно-генетичних експертиз не в повною мірою відповідають потребам кримінального провадження.
The importance of molecular genetic examinations which analyze traces of biological origin increases in the practice of the investigation of crimes in Ukraine. One of the important stages of the expert study and its use in the evidence is the evaluation of the expert's conclusion. As a result of studying scientific and methodical literature, as well as materials of criminal cases of premeditated murders, it was established that expert, investigative and judicial evaluation of conclusions of molecular genetic examinations do not fully meet the needs of criminal proceedings in Ukraine. The work is based on the analysis of the procedural legislation of Ukraine and forensic literature on DNA analysis, the results of the study of the conclusions of molecular genetic examinations in 180 criminal proceedings on deliberate murders, the study of the practice of inviting experts to court to clarify the conclusions of the examination. In the study, a system of methods of scientific knowledge was used: system-structural, comparative-legal, analysis, synthesis, analogy and others. In order to improve the effectiveness of the evaluation of molecular genetic expertise based on the results of DNA analysis, the expert should formulate accessible conclusions about the origin of biological traces, for which it is necessary to develop criteria for the coincidence of comparable objects. In order to admit the conclusions of the genetic expert as evidence, criminal procedural legislation of Ukraine should be improved by developing special rules for the selection of biological samples for DNA analysis by the investigator, the court and their voluntary giving by citizens. It should also be possible to carry out verification studies at the pre-trial stage of investigation and develop expert methods to solve questions about the mechanism of DNA penetration into objects.
В практике расследования преступлений в Украине возрастает значение молекулярно-генетических экспертиз, в которых проводится анализ следов биологического происхождения. Одним из важных этапов экспертного исследования и его использования в доказывании является оценка заключения эксперта. В результате изучения научной и методической литературы, а также материалов уголовных дел об умышленных убийствах было установлено, что в Украине экспертная, следственная и судебная оценка заключений молекулярно-генетических экспертиз не в полной мере отвечают потребностям уголовного производства. В основе работы лежит анализ процессуального законодательства Украины и судебно-экспертной литературы по ДНК-анализу, результаты изучения выводов молекулярно-генетических экспертиз в 250 уголовных производствах об умышленных убийствах, изучение практики приглашения экспертов в суд для разъяснения выводов экспертизы. В ходе исследования использовалась система методов научного познания: системно-структурный, сравнительно-правовой, анализ, синтез, аналогия и другие. С целью повышения эффективности оценки молекулярно-генетической экспертизы по результатам ДНК-анализа эксперт должен формулировать доступные выводы о происхождении биологических следов, для чего необходимо разработать критерии совпадения сравниваемых объектов. Для допущения выводов эксперта-генетика в качестве доказательства следует усовершенствовать уголовное процессуальное законодательство Украины путем разработки специальных норм по отбору биологических образцов для ДНК-анализа следователем, судом и их добровольной даче гражданами, а также решать вопросы о механизме попадания ДНК на объекты, изъятые при расследовании преступлений.
Description
Assessment of the conclusions of molecular genetic examination in the investigation of crimes / Shcherbakovskyi, M., Stepaniuk, R., Kikinchuk, V. and ot. // Amazonia Investiga. – 2020. – Vol 9, No 25. – P. 479 - 486.
Shcherbakovskyi, M., R. Stepaniuk, V. Kikinchuk, I. Petrova, and T. Hanzha. "Assessment of the Conclusions of Molecular Genetic Examination in the Investigation of Crimes". Amazonia Investiga, Vol. 9, no. 25, Jan. 2020, pp. 479-86, https://amazoniainvestiga.info/index.php/amazonia/article/view/1097.
Keywords
publikatsii u zarubizhnomu vydanni
,
publikatsii u WoS
,
Наукові публікації. Scientific publications. Научные публикации
,
Україна. Ukraine. Украина
,
Криміналістика. Criminalistics. Криминалистика
,
molecular genetic examination
,
DNA analysis
,
assessment of forensic findings
,
DNA as evidence in criminal investigation
,
conclusion of an expert in criminal proceedings
,
criminal investigation
,
criminal proceedings
,
молекулярно-генетична експертиза
,
ДНК-аналіз
,
оцінка висновків судової експертизи
,
ДНК як доказ у кримінальному розслідуванні
,
висновок експерта в кримінальному провадженні
,
кримінальне розслідування
,
кримінальне провадження
,
молекулярно-генетическая экспертиза
,
ДНК-анализ
,
оценка выводов судебной экспертизы
,
ДНК как доказательство в уголовном расследовании
,
вывод эксперта в уголовном производстве