Forensic prevention of corruption offences: some aspects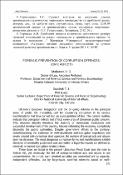 Publisher
Legal practice in EU countries and Ukraine at the modern stage: International scientific and practical conference (Arad, 25-26 January 2019). – Arad: Izdevnieciba «Baltija Publishing», 2019. – Р. 571-574
Abstract
Розглянуто окремі аспекти судової профілактики корупційних правопорушень.
Some aspects of judicial prevention of corruption offenses are considered.
Рассмотрены отдельные аспекты судебной профилактики коррупционных правонарушений.
Description
Maliarova, V. O. Forensic prevention of corruption offences: some aspects / V. O. Maliarova, T. I. Savchuk // Legal practice in EU countries and Ukraine at the modern stage: International scientific and practical conference (Arad, 25-26 January 2019). – Arad: Izdevnieciba «Baltija Publishing», 2019. – Р. 571-574.
Keywords
forensic prevention
,
corruption
,
corruption offences
,
судебная профилактика
,
коррупционные правонарушения
,
коррупция
,
судова профілактика
,
корупційні правопорушення
,
корупція
,
Кримінологія. Criminology. Криминология
,
Україна. Ukraine. Украина
,
Наукові публікації. Scientific publications. Научные публикации