1938 рік в організації та діяльності міліції України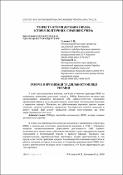 Publisher
Вісник Пенітенціарної асоціації України. - 2020. - № 1(11). - С. 124-133
Abstract
Розглянуто питання, пов'язані зі зміною структури НКВС та основними аспектами діяльності міліції у 1938 р. Висвітлено проблеми про організаційне зміцнення діяльності ДАІ, ідейно-політичне виховання працівників міліції у дусі «відданості ідеям соціалізму і безпощадної боротьби з ворогами народу». Показано, як здійснювалася протидія деяким видам злочинів, зокрема грабежам, крадіжкам. Проаналізовано основні недоліки в роботі міліції. Цей аспект діяльності міліції політизувався, що було характерним для того часу.
The questions related to the change of structure of NКVS and basic aspects of activity of militia in 1938. These questions are scantily explored are examined in the article. 1938 in history of militia of URSR was saturated enough by various events. The searches of ways of optimization of structure of organs of internal affairs proceeded. Changes took place in guidance of NКVS of the USSR and Ukrainian SSR.A question is reflected about the organizational strengthening of activity of GAI, ideological and political education of workers of militia in a spirit "devotion to the ideas of socialism and merciless fight against the enemies of people". Changes took place in the form of employees of militia. It is shown, as counteraction to some types of crimes came true in this time, in particular by robberies, thefts that were most widespread. Basic defects are analysed in-process militia, that was marked of that time guidance of NКVS. Militia posts were proposed on distribution that did not change for years and case-insensitive operative necessity. Markets, gardens, cinemas and other public places, were provided not enough with militia, cities in a night-time were guarded badly. For posts the insignificant number of militiamen was used.This aspect of activity of militia was politicized, that had been by characteristic for that time. Counteraction of criminality, that on the whole was successful, though not such, as it was represented in parade reports.
Рассмотрены вопросы, связанные с изменением структуры НКВД и основными аспектами деятельности милиции в 1938 г. Отражены проблемы организационного укрепления деятельности ГАИ, идейно-политического воспитания работников милиции в духе «преданности идеям социализма и беспощадной борьбы с врагами народа». Показано, как осуществлялось противодействие некоторым видам преступлений в это время, в частности грабежам, кражам. Проанализированы основные недостатки в работе милиции, которые отмечались и тогдашним руководством НКВД. Этот аспект деятельности милиции политизировался, что было характерным для того времени.
Description
Головко, О. М. 1938 рік в організації та діяльності міліції України / Головко О. М., Греченко В. А. // Вісник Пенітенціарної асоціації України. - 2020. - № 1(11). - С. 124-133. - DOI: 10.34015/2523-4552.2020.1.13.
Keywords
Державне адміністративне управління. Адміністративна діяльність. State Administration. Administrative Activity. Государственное административное управление. Административная деятельность
,
Наукові публікації. Scientific publications. Научные публикации
,
Україна. Ukraine. Украина
,
Історія. History. История
,
історико-правовий аналіз
,
historical and legal analysis
,
историко-правовой анализ
,
Органи внутрішніх справ. Internal affairs agencies. Органы внутренних дел
,
Internal Affairs Agencies
,
органы внутренних дел
,
міліція
,
militia
,
милиция
,
1938 рік
,
1938 год
,
протидія злочинності
,
crime prevention
,
противодействие преступности
,
НКВС
,
НКВД
,
охорона громадського порядку
,
protection public order
,
охрана общественного порядка