Fundamentals of the formation of a common method for investigating illicit arms trafficking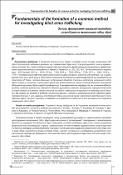 Authors
Publisher
Visegrad journal on human rights. – 2019. – № 5 (Vol. 2). – P. 13-17
Abstract
Розглянуто проблему розроблення загальної методики розслідування всіх злочинів щодо незаконного обігу зброї. Указані злочини об'єднує однакова підвищена суспільна небезпека, а також предмет злочину – зброя. Основою методики слугує класифікація злочинів, які поділені на дві групи: за формою вини (навмисні й ненавмисні), а всередині груп – за способом учинення кримінального правопорушення.
The article deals with the problem of developing a common method for the investigation of all crimes of illicit arms trafficking. These crimes are combined by the same heightened public danger and weapons as an object of crime. The basis of the method is the classification of crimes, which are divided into two groups: by form of guilt (intentional and unintentional), and within the groups – by the method of committing a criminal offense.
Рассмотрена проблема разработки общей методики расследования всех преступлений относительно незаконного оборота оружия. Указанные преступления объединяет одинаковая повышенная общественная опасность, а также предмет преступления – оружие. Основой методики служит классификация преступлений, которые разделены на две группы: по форме вины (преднамеренные и непреднамеренные), а внутри групп – по способу совершения уголовного преступления.
Description
Andreev, D. Fundamentals of the formation of a common method for investigating illicit arms trafficking / Denis Andreev // Visegrad journal on human rights. – 2019. – № 5 (Vol. 2). – P. 13-17.
Keywords
Криміналістика. Criminalistics. Криминалистика
,
Наукові публікації. Scientific publications. Научные публикации
,
Україна. Ukraine. Украина
,
криміналістична методика
,
forensic technique
,
криминалистическая методика
,
розслідування злочинів
,
crime investigation
,
расследование преступлений
,
незаконний обіг зброї
,
illegal arms trafficking
,
незаконное обращение оружия
,
класифікація злочинів
,
classification of crimes
,
классификация преступлений
,
publikatsii u zarubizhnomu vydanni