E-government within Public Administration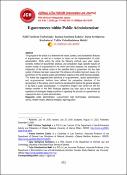 Publisher
Jurnal Cita Hukum: Indonesian Law Journal . - 2020. - Vol. 8, No. 3. - P. 471-488
Abstract
Метою статті є визначення сутності, змісту та характерних рис електронного управління, а також аналіз його впливу на здійснення публічного адміністрування. У роботі аналізуються особливості сучасних моделей електронного управління у світі, а також вивчається доцільність запровадження оптимальної моделі вказаного виду управління до державної системи України. Розглянуто вплив сучасних високотехнологічних засобів електронного управління на існуючі у світі системи публічного адміністрування. Пропонується авторське визначення поняття «електронний уряд», «публічне адміністрування» та «електронне управління». Визначаються перспективні напрями розвитку цієї сфери, які необхідно розвивати задля поліпшення загальної ситуації у сфері громадського адміністрування. Звертається увага успішний досвід розвинених розвинених країн організації процесу електронного управління як перспективної форми громадського адміністрування.
The purpose of the article is to determine the nature, content, and characteristic features of e-government, as well as to analyze its impact on the implementation of public administration. While writing the article the following methods were used: logical, semantic, method of documentary analysis, and comparative legal. Specific features of modern models of e-government in the world have been analyzed; the expediency of introduction of the optimal model of the specified kind of government into the state system of Ukraine has been researched. The influence of modern high-tech means of e-government on the existing public administration systems in the world has been studied. The author has suggested their definitions of «e-government», «public administration» and «e-governance». Authors have defined the perspective directions of the development of this sphere, which need to be developed to improve the general situation in the field of public administration. A comparative analysis was carried out with the leading countries in this field. Particular attention has been paid to the successful experience of developed foreign countries in organizing the process of e-government as a perspective form of public administration.
Целью статьи является определение сущности, содержания и характерных особенностей электронного управления, а также анализ его влияния на осуществление публичного администрирования. В работе анализируются особенности современных моделей электронного управления в мире, а также изучается целесообразность внедрения оптимальной модели указанного вида управления в государственную систему Украины. Рассмотрено влияние современных высокотехнологичных средств электронного управления на ныне существующие в мире системы публичного администрирования. Предлагается авторское определение понятия «электронное правительство», «публичное администрирование» и «электронное управление». Определяются перспективные направления развития этой сферы, которые нужно развивать для улучшения общей ситуации в области публичного администрирования. Обращается внимание на успешный опыт развитых зарубежных стран в организации процесса электронного управления как перспективной формы публичного администрирования.
Artikel ini bertujuan untuk mengetahui sifat, isi dan ciri khas e-government, serta menganalisis dampaknya terhadap penyelenggaraan administrasi publik. Saat menulis artikel metode berikut digunakan: logis, semantik, metode analisis dokumenter dan hukum komparatif. Ciri-ciri khusus model modern e-government di dunia telah dianalisis; kemanfaatan pengenalan model optimal dari jenis pemerintah tertentu ke dalam sistem negara Ukraina telah diteliti. Pengaruh sarana e-government berteknologi tinggi modern pada sistem administrasi publik yang ada di dunia telah dipelajari. Penulis telah menyarankan definisi «e-government», «administrasi publik» dan «e-governance» sendiri. Penulis telah menentukan arah perspektif perkembangan bidang ini, yang perlu dikembangkan untuk tujuan memperbaiki situasi umum di bidang administrasi publik. Analisis komparatif dilakukan dengan negara-negara terkemuka di bidang ini. Perhatian khusus telah diberikan pada pengalaman sukses negara-negara asing maju dalam menyelenggarakan proses e-government sebagai bentuk perspektif administrasi publik.
Description
E-government within Public Administration / Nelli Yuriivna Tsybulnyk, Ivanna Ivanivna Zadoia, Iryna Serhiyivna Kurbatova, Yuliia Volodimirivna Mekh // Jurnal Cita Hukum: Indonesian Law Journal . – 2020. – Vol. 8, № 3. – P. 471-488. – DOI: https://doi.org/10.15408/jch.v8i3.18300.
Keywords
Державне адміністративне управління. Адміністративна діяльність. State Administration. Administrative Activity. Государственное административное управление. Административная деятельность
,
Наукові публікації. Scientific publications. Научные публикации
,
Україна. Ukraine. Украина
,
publikatsii u WoS
,
Адміністративне право та процес. Administrative Law and Procedure. Административное право и процесс
,
public administration
,
e-government
,
high technologies
,
administrative activity
,
modern means
,
effective strategies
,
legal regulation
,
державне управління
,
електронний уряд
,
високі технології
,
адміністративна діяльність
,
сучасні засоби
,
ефективні стратегії
,
правове регулювання
,
государственное управление
,
электронное правительство