Перспективи встановлення юрисдикції Міжнародного кримінального суду щодо екоциду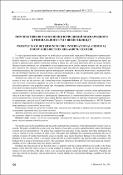 Publisher
Актуальні проблеми вітчизняної юриспруденції. – 2021. – № 5. – С. 106-112
Abstract
У статті проаналізовано можливості та необхідність установлення юрисдикції Міжнародного кримінального суду щодо екоциду. Вона присвячена розгляду сутності та особливостей екоциду як злочину проти безпеки людства за міжнародним кримінальним та екологічним правом. Досліджено законодавство країн, що містять у кримінальних законах такий вид злочину, а також тих, які тільки включають його до складу злочинів. Проаналізовано конвенції, що забороняють застосовувати методи чи засоби ведення воєнних дій, які мають на меті заподіяти або завдадуть широких, довгострокових серйозних збитків природному середовищу. Наведено визначення екоциду, яке підготовлене групою міжнародних експертів і вже не пов'язане тільки з веденням бойових дій.
The article analyzes the possibilities and the need to determine the jurisdiction of the International Criminal Court on ecocide. The paper considers the essence and core features of ecocide as a crime against humanity under international criminal and environmental law. The author has examined the legislation of the countries that either distinguish this crime or include it in the structure of other crimes. The paper also highlights the conventions prohibiting the use of methods or means of warfare that intend to cause or actually cause severe long-term damage to the environment. The defnition of the ecocide, which is no longer connected only to armed hostilities, has been provided according to the fndings from a group of international experts. The constituent elements of this defnition have been analyzed, namely: needless, severe, widespread, long-term and environment. Emphasis has been placed on the fact that there is a problem with the existing defnition of ecocide in the Rome Statute, which links this crime exclusively to the conduct of hostilities. At this point, it would be more reasonable to connect it to the activities of the state, which is not necessarily aimed at achieving military superiority. Therefore, the next step would be to develop a rule on international criminal liability for environmental damage, regardless of the fact of hostilities. It has been stressed that according to national practice, in recent years, law enforcement agencies have initiated a remarkable number of criminal proceedings under Art. 441 of the Criminal Code of Ukraine (ecocide), but failed to bring them to justice due to the shortcomings of the legislation. The blanket character of this norm presupposes the obligation to defne the concept of 'environmental catastrophe'. The paper further elaborated on an example of a particular criminal proceeding under investigation of the Security Service of Ukraine. The suspicion was based on the reference to Art. 441 of the Criminal Code of Ukraine and on the facts of air pollution and poisoning of air, water resources and soil, which could lead to an environmental catastrophe. It has been concluded that determining the jurisdiction of the International Criminal Court on ecocide in peacetime will save the planet from destruction.
В статье проанализированы возможности и необходимость установления юрисдикции Международного уголовного суда по экоциду. Она посвящена рассмотрению сущности и особенностей экоцида как преступления против безопасности человечества по международному уголовному и экологическому праву. Исследовано законодательство стран, содержащих в уголовных законах такой вид преступления, а также только включающих его в состав преступлений. Проанализированы конвенции, запрещающие применять методы или средства ведения военных действий, которые имеют целью причинить или нанесут широкие, долгосрочные серьезные убытки природной среде. Приведено определение экоцида, подготовленное группой международных экспертов и уже не связанное только с ведением боевых действий.
Description
Шуміло О. М. Перспективи встановлення юрисдикції Міжнародного кримінального суду щодо екоциду / Шуміло О. М. // Актуальні проблеми вітчизняної юриспруденції. – 2021. – № 5. – С. 106-112. – DOI: https://doi.org/10.15421/392207.
Keywords
Міжнародне право .International Law. Международное право
,
Наукові публікації. Scientific publications. Научные публикации
,
екоцид
,
екологічна катастрофа
,
Міжнародний кримінальний суд
,
міжнародне екологічне право
,
еколого-правова відповідальність
,
экоцид
,
экологическая катастрофа
,
Международный уголовный суд
,
Международное экологическое право
,
эколого-правовая ответственность
,
ecocide
,
environmental catastrophe
,
International Criminal Court
,
international environmental law
,
environmental and legal responsibility