Аспекти використання штучних нейронних мереж у сучасних тренажерних системах «екіпаж-вертоліт-середовище»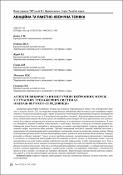 Publisher
Вчені записки ТНУ імені В.І. Вернадського. Сер.: Технічні науки. – 2021. – Т. 32 (71), № 2, ч. 1. - С. 26-30
Abstract
Досліджено питання покращення тренажерної бази для підготовки та підвищення кваліфікації пілотів вертольотів. Зазначено, що режими роботи авіаційних тренажерів, а особливо тренажерних систем «екіпаж-вертоліт-середовище», мають дуже складну і розгалужену структуру, а технологічні процеси дуже складні і залежать від багатьох факторів. Запропоновано використання штучних нейронних мереж у сучасних тренажерних системах «екіпаж-вертоліт-середовище».
Air transport has a positive impact on the development of tourism business and international trade. Today, more than 52% of international tourist travel is carried out by air. The developed aviation industry contributes to increasing the investment attractiveness of the country and expanding opportunities for international companies to operate in its territory. Air transport also provides extremely fast delivery of valuable and perishable goods to the destination, which is why it is widely used by large leading international logistics companies. Within the framework of the Aviation Strategy, tasks should be solved, among others, in the following main areas: improving the level of air transport safety, development of the air navigation system, professional training, research. The reason for the occurrence of a special situation, as a rule, is related to the violation or non-compliance with the requirements of regulations governing flight operations. However, the immediate cause of the accident in most aviation accidents is due to the erroneous actions of the crew in the development of a special situation. From this we can conclude that the issued recommendations, aimed mainly at improving the level of professional training of flight crew, do not achieve their goal, as they focus on imperfect methods of training helicopter pilots and a weak training base. Therefore, it is necessary and urgent to improve the training base for training and retraining of helicopter pilots. Meanwhile, the modes of operation of aircraft simulators, and especially training systems "crew-helicopter-environment", has a very complex and branched structure, and technological processes are very complex and depend on many factors, forecasting, which is a difficult and difficult task. The use of artificial neural networks in modern training systems "crew-helicopter-environment" is proposed.
Исследованы вопросы улучшения тренажерной базы для подготовки и повышения квалификации пилотов вертолетов. Отмечено, что режимы работы авиационных тренажеров, особенно тренажерных систем «экипаж-вертолет-среда», имеют очень сложную и разветвленную структуру, а технологические процессы очень сложны и зависят от многих факторов. Предложено использование искусственных нейронных сетей в современных тренажерных системах «экипаж-вертолет-среда».
Description
Бойко, С. М. Аспекти використання штучних нейронних мереж у сучасних тренажерних системах «екіпаж-вертоліт-середовище» / Бойко С. М., Олійник Ю. Л., Журід В. І. та ін. // Вчені записки ТНУ імені В.І. Вернадського. Сер.: Технічні науки. – 2021. – Т. 32 (71), № 2, ч. 1. - С. 26-30. - DOI: https://doi.org/10.32838/2663-5941/2021.2-1/06.
Keywords
Техніка. Технічні науки. Machinery. Engineering. Техника. Технические науки
,
Наукові публікації. Scientific publications. Научные публикации
,
Україна. Ukraine. Украина
,
безпека польотів
,
flight safety
,
безопасность полетов
,
підготовка пілотів
,
pilot training
,
подготовка пилотов
,
тренажерні системи
,
training systems
,
тренажерные системы
,
штучні нейронні мережі
,
artificial neural networks
,
искусственные нейронные сети
,
авіаційний транспорт
,
air transport
,
авиационный транспорт
,
людський фактор
,
human factor
,
человеческий фактор