Проблеми визначення концептуальних основ державної інформаційної політики в Україні на сучасному етапі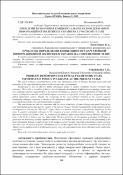 Authors
Publisher
Науковий вісник Академії муніципального управління. Серія : Право. - 2015. - Вип. 2. - С. 136-141
Abstract
Розглянуто концептуальні основи державної інформаційної політики в Україні. Досліджено стратегічну ціль, завдання та принципи державної інформаційної політики на сучасному етапі.
The article analyzes conceptual bases of the state information policy in Ukraine. Strategic goal, tasks and principles of the state information policy on the current stage are examined. Background is that an effective public information policy in modern conditions became extremely high relevance. This is due to a number of factors. Accelerating the development of information technology creates both new challenges and new opportunities in the field of information. In addition, the implementation of single Ukraine course of integration into the world and European community is impossible without effective integration into the global information system. Finally, the complexity of the socio-political situation in the country requires formulating adequate responses to threats in the information sphere. In this regard, the issue of determining the conceptual basis of the state information policy is timely. The conclusions are that in connection with the above drawbacks of consolidating conceptual basis of the state information policy and that the validity of the Law of Ukraine "On the Fundamentals of Information Society Development in Ukraine for 2007-2015" expire, there is a need to adopt new comprehensive legislation in this area. It acquires particular relevance to the creation of a new central executive authority - the Ministry of Information Policy of Ukraine. Thus, the position of this ministry, approved by the Cabinet of Ministers of Ukraine from 14.01.15 & 2, defines only two tasks of the Ministry (provision of information sovereignty of Ukraine, in particular on distributing socially important information in Ukraine and abroad, as well as the functioning of the state information Resources and reforms of the media to spread socially important information.) which certainly does not cover all aspects of public information policy. In this regard, the law should consolidate the role of the Ministry in the implementation of information policy, ways of cooperation in this area with other public authorities and others.
Рассмотрены концептуальные основы государственной информационной политики Украины. Исследованы стратегическая цель, задачи и принципы государственной информационной политики на современном этапе.
Keywords
державна інформаційна політика
,
state information policy
,
государственная информационная политика
,
правове регулювання
,
legal regulation
,
правовое регулирование
,
інформаційне суспільство
,
information society
,
информационное общество
Citation
Негодченко, В. О. Проблеми визначення концептуальних основ державної інформаційної політики в Україні на сучасному етапі / В. О. Негодченко // Науковий вісник Академії муніципального управління. Серія : Право. - 2015. - Вип. 2. - С. 136-141.