Contents and specificity of principles of regulatory activities of Ukraine's executive authorities in the field of environmental protection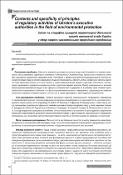 Publisher
Visegrad journal on human rights. – 2019. – № 6 (Vol. 3). – P. 96-101
Abstract
Надано характеристику принципів нормотворчої діяльності органів виконавчої влади в Україні у сфері охорони навколишнього природного середовища з урахуванням наукових доктрин і положень адміністративного законодавства України. Проаналізовано наукові концепції, виокремлено принципи нормотворчої діяльності державних органів загальні і спеціальні. Розглянуто особливості їх застосування у природоохоронній сфері.
The article describes the principles of norm-setting activities of executive authorities in Ukraine in the field of environmental protection, taking into account the scientific doctrines and administrative legislation of Ukraine. In the process of analyzing scientific concepts, the author distributed the principles of standard-setting activity of state bodies to general and special. The author also considered the features of the application of principles in the environmental field.
Дана характеристика принципов нормотворческой деятельности органов исполнительной власти в Украине в сфере охраны окружающей природной среды с учетом научных доктрин и положений административного законодательства Украины. Проанализированы научные концепции, выделены принципы нормотворческой деятельности государственных органов общие и специальные. Рассмотрены особенности их применения в сфере природоохраны.
Description
Kazanchuk, I. Contents and specificity of principles of regulatory activities of Ukraine's executive authorities in the field of environmental protection / Iryna Kazanchuk // Visegrad journal on human rights. – 2019. – № 6 (Vol. 3). – P. 96-101.
Keywords
Адміністративне право та процес. Administrative Law and Procedure. Административное право и процесс
,
Наукові публікації. Scientific publications. Научные публикации
,
Україна. Ukraine. Украина
,
охорона навколишнього природного середовища
,
environmental protection
,
охрана окружающей природной среды
,
нормотворча діяльність
,
regulatory activity
,
нормотворческая деятельность
,
принципи
,
principles
,
принципы
,
органи виконавчої влади
,
bodies of executive power
,
органы исполнительной власти
,
нормативно-правовий акт
,
legal act
,
нормативно-правовой акт
,
publikatsii u zarubizhnomu vydanni