National Police of Ukraine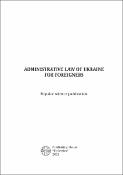 Publisher
Administrative Law of Ukraine for Foreigners : popular science publication. – Odesa : Publishing House «Helvetica», 2021. – P. 15-16
Abstract
Розглянуто поліцейські заходи, що можуть застосовувати офіцери поліції України, для захисту іноземців від незаконних посягань.
Police measures that can be used by Ukrainian police officers to protect foreigners from illegal encroachments are considered.
Рассмотрены полицейские меры, которые могут применять офицеры полиции Украины, для защиты иностранцев от незаконных посягательств.
Description
Syniavska, O. National Police of Ukraine / Olena Syniavska // Administrative Law of Ukraine for Foreigners : popular science publication / [ Valentyn Halunko (ed.)]. – Odesa : Publishing House «Helvetica», 2021. – P. 15-16.
Keywords
Державне адміністративне управління. Адміністративна діяльність. State Administration. Administrative Activity. Государственное административное управление. Административная деятельность
,
Наукові публікації. Scientific publications. Научные публикации
,
Україна. Ukraine. Украина
,
Національна поліція України. National police of Ukraine. Национальная полиция Украины
,
National police of Ukraine
,
Национальная полиция Украины
,
поліція
,
police
,
полиция
,
foreigner
,
иностранец
,
іноземець