Prisioner's rights issues in the aspect of human rights protection under the conditions of the coronavirus disease pandemic (Covid-19)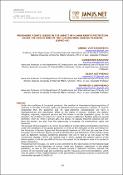 Publisher
JANUS.NET: e-journal of International Relations. - 2022. - Vol. 13, Nº 2. - P. 237-251
Abstract
Розглянуто проблему дотримання прав осіб, які перебувають у місцях позбавлення волі. Адже коли людина потрапляє у в'язницю, вона фактично стає не тільки ізольованою від суспільства, а й від можливості реалізувати свої конституційні права та свободи. Звернено увагу на дотримання міжнародно-правових норм, вимог до законності обмеження прав і свобод людини в глобальній пандемії, а також поширення коронавірусної хвороби в місцях позбавлення волі, розкрито зміст міжнародно-правових актів, що містять конкретні заходи та рекомендації, які можуть бути корисними при їх впровадженні в практику пенітенціарних установ з метою попередження неконтрольоване поширення COVID-19.
Under the conditions of the global pandemic, the problem of international legal regulation of relations in the field of human rights and freedoms becomes extremely relevant. It must be recognized that the pandemic and its socio-economic consequences will have a disproportionate and detrimental effect on the rights of women, children, the elderly, refugees, migrants, displaced persons and the others in at-risk population group. In this situation, the problem of respect for rights of persons in detention facilities deserves special attention. After all, when a person gets into prison, he actually becomes isolated not only from the society, but also from the opportunity to exercise his constitutional rights and freedoms. The purpose of this research is to review the problem of human rights and freedoms restriction under the conditions of the global pandemic in terms of the execution of the Convention for the Protection of Human Rights and Fundamental Freedoms of 1950 and the case law of the European Court of Human Rights, as well as identification and delineation of the problem areas such as detention facilities containing prisoners who are in fact an at-risk group for the Coronavirus disease (COVID-19) spread, and in which, despite the relative control of the whole system, it will be very difficult to stop the spread of the disease in case of its spread in these institutions. Proceeding from this goal, we want to draw attention to the observation of international legal requirements for the legitimacy of human rights and freedoms restrictions in the global pandemic, as well as the Coronavirus disease spread in detention facilities, disclose the content of international legal acts containing specific measures and recommendations, which may be useful in their implementation in the penitentiary institutions practice to prevent the uncontrolled spread of COVID-19.
Рассмотрена проблема соблюдения прав лиц, находящихся в местах лишения свободы. Когда человек попадает в тюрьму, он фактически становится не только изолированным от общества, но и от возможности реализовать свои конституционные права и свободы. Обращено внимание на соблюдение международно-правовых норм, требований к законности ограничения прав и свобод человека в глобальной пандемии, а также распространение коронавирусной болезни в местах лишения свободы, раскрыто содержание международно-правовых актов, содержащих конкретные меры и рекомендации, которые могут быть полезны при их внедрении в практику пенитенциарных учреждений с целью предупреждения неконтролируемого распространения COVID-19.
Description
Prisioner's rights issues in the aspect of human rights protection under the conditions of the coronavirus disease pandemic (Covid-19) [Electronic resource] / Andrii Voitsikhovskyi, Oleksandr Bakumov, Olena Ustymenko, Yevheniia Lohvynenko // JANUS.NET: e-journal of International Relations. - 2022. - Vol. 13, Nº 2. - P. 237-251. - Access mode: https://doi.org/10.26619/1647-7251.13.2.10.
Voitsikhovskyi, Andrii; Bakumov, Oleksandr; Ustymenko, Olena; Lohvynenko, Yevheniia (2022). Prisoners' Rights Issues in the Aspect of Human Rights Protection under the Conditions of the Coronavirus Disease Pandemic (COVID-19). Janus.net, e-journal of international relations, Vol13 N2, November 2022-April 2023. Consulted [online] in date of last visit, https://doi.org/10.26619/1647-7251.13.2.10.
Keywords
Міжнародне право .International Law. Международное право
,
Наукові публікації. Scientific publications. Научные публикации
,
права ув'язнених
,
prisoners' rights
,
права заключенных
,
пандемія
,
pandemic
,
пандемия
,
COVID-19
,
Рада Європи
,
Council of Europe
,
Совет Европы
,
Європейська Конвенція з прав людини
,
Convention for the Protection of Human Rights and Fundamental Freedoms
,
Конвенція про захист прав людини і основоположних свобод
,
Конвенция о защите прав человека и основных свобод
,
Європейський суд з прав людини
,
European Court of Human Rights
,
Европейский суд по правам человека
,
міжнародно-правове регулювання
,
international legal regulation
,
международно-правовое регулирование
,
пенітенціарні установи
,
penitentiary institutions
,
пенитенциарные учреждения
,
publikatsii u zarubizhnomu vydanni