Військова кримінологія в історичній ретроспективі та її подальший розвиток з позицій реалій нинішнього дня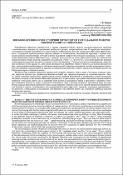 Publisher
Juris Europensis Scientia. – 2022. – Вип. 4. – С. 69-74
Abstract
Розглянуто питання визначення та винайдення шляхів антикриміногенного потенціалу механізмів військової кримінології з одночасним, вірогідним зниженням криміногенності чинників суспільного життя, що за нинішніх умов російсько-української війни є важливим у напрямку суттєвого зниження ризиків та загроз подальшого військового стану і якомога скорішого досягнення миру на паритетних засадах виявлення кримінологічних засад розкриття істинних смислів та граней військової кримінології для України з описом, поясненням та підтвердженням багатьох факторів і процесів, духовними переданнями і, як результат, глобальними катаклізмами, пов'язаними з гріховністю життя, що й визначає найбільш важливі криміногенні ризики.
By developing military criminology within the framework of a criminological project of general social significance with the maximum deviation from the citation of russian sources, its Ukrainian significance is crystallized, the key (nodal) element of which is its coverage in the most interesting details and examples of the military sphere of activity, current functioning with further criminological justification and understanding, determination the nature and degree of social risks of criminogenic situations in order to overcome the conflict military panorama, and most importantly - to reveal the hidden meanings of wartime, the causes, and consequences of certain military events. Here, knowledge of the spiritual history of mankind is required, to answer the questions "why?" and "for what?", when outwardly problematic moments in rare cases turn out for the better, following the principle: "The Lord does not allow trials if something better does not come out of them ", thereby exposing the painful conditions of society, where it is possible to use the entire anti-criminogenic potential of military criminology for the purpose of improving methods of increasing social regulation and implementing them in practice from the standpoint of highly spiritual life, the correctness of the chosen religion, which will be the guidepost of social life. The methodological picture of military criminology requires a lot of effort to find out its true meanings, first of all, it is about the criminological-victimological section of the "aggressor state" and the "victim state". Hence, modern Ukrainian criminology faces the question of determining and inventing ways of the anti-criminogenic potential of the mechanisms of military criminology with a simultaneous, probable reduction in the criminogenic factors of social life, which under the current conditions of the Russian-Ukrainian war is important in the direction of significantly reducing the risks and threats of a further state of war and as soon as possible achieving of peace on the basis of parity, identifying the criminological foundations, revealing the true meanings and facets of military criminology for Ukraine with the description, explanation, and confirmation of many factors and processes, spiritual traditions and, as a result, global cataclysms associated with the sinfulness of life, which determines the most important criminogenic risks.
Рассмотрены вопросы определения и изобретения путей антикриминогенного потенциала механизмов военной криминологии с одновременным, вероятным снижением криминогенности факторов общественной жизни, что при нынешних условиях российско-украинской войны важно в направлении существенного снижения рисков и угроз дальнейшего военного состояния и как можно скорейшего достижения мира на паритетных началах выявление криминологических основ раскрытия истинных смыслов и граней военной криминологии для Украины с описанием, объяснением и подтверждением многих факторов и процессов, духовными передачами и, как результат, глобальными катаклизмами, связанными с греховностью жизни, что и определяет наиболее важные криминогенные риски.
Description
Військова кримінологія в історичній ретроспективі та її подальший розвиток з позицій реалій нинішнього дня / І. В. Кріцак // Juris Europensis Scientia. – 2022. – Вип. 4. – С. 69-74. - DOI: https://doi.org/10.32782/chern.v4.2022.15.
Keywords
Кримінологія. Criminology. Криминология
,
Наукові публікації. Scientific publications. Научные публикации
,
Україна. Ukraine. Украина
,
військова кримінологія
,
military criminology
,
военная криминология
,
історичній досвід
,
historical experience
,
исторический опыт
,
духовно-ціннісна складова
,
spiritual and valuable component
,
духовно-ценностная составляющая
,
оборонно-промисловий комплекс
,
defense and industrial complex
,
оборонно-промышленный комплекс