К вопросу об объективизации результатов административной процедуры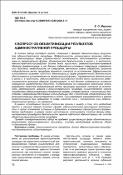 Publisher
Держава та регіони. Серія: Право. – 2020. – № 3 (69). – С. 76-81
Abstract
В статье автор исследует вопрос, связанный с формой объективизации результатов административной процедуры. Эффективность использования органами публичной администрации форм управленческой деятельности обеспечивается установлением их процессуальной формы. Автор предлагает, в рамках своего исследования, использовать понятие формы административно-процедурной деятельности органов публичной администрации как способа объективизации результатов процедуры.
In the article, the author examines the issue related to the form of objectification of the results of the administrative procedure. The effectiveness of the use by public administration bodies of forms of management activity is ensured by the establishment of their procedural form. The author proposes, within the framework of his research, to use the concept of the form of administrative and procedural activity of public administration bodies as a way to objectify the results of the procedure.
У статті автор досліджує питання, пов'язане з формою об'єктивізації результатів адміністративної процедури. Ефективність використання органами публічної адміністрації форм управлінської діяльності забезпечується встановленням їх процесуальної форми. Автор пропонує, в рамках свого дослідження, використовувати поняття форми адміністративно-процедурної діяльності органів публічної адміністрації як способу об'єктивізації результатів процедури.
Description
Маркова, Е. О. К вопросу об объективизации результатов административной процедуры / Е. О. Маркова // Держава та регіони. Серія: Право. – 2020. – № 3 (69). – С. 76-81. - DOI: https://doi.org/10.32840/1813-338X-2020.3.13.
Keywords
Адміністративне право та процес. Administrative Law and Procedure. Административное право и процесс
,
Наукові публікації. Scientific publications. Научные публикации
,
Україна. Ukraine. Украина
,
адміністративна процедура
,
административная процедура
,
administrative procedure
,
форма адміністративно-процедурної діяльності
,
форма административно-процедурной деятельности
,
form of administrative and procedural activity
,
об'єктивізація результатів
,
объективизация результатов
,
objectification of results
,
форми управлінської діяльності
,
формы управленческой деятельности
,
forms of management
,
Державне адміністративне управління. Адміністративна діяльність. State Administration. Administrative Activity. Государственное административное управление. Административная деятельность