Професійно-особистісні якості працівників підрозділів превентивної діяльності Національної поліції на різних етапах професійного становлення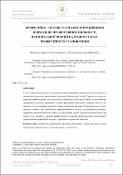 Publisher
Психологічний часопис. - 2019. - Т. 5, № 10. - С. 143-155
Abstract
Представлено результати вивчення деяких професійно значущих якостей особистості працівників підрозділів превентивної діяльності Національної поліції України, оскільки модернізація правоохоронної системи в цілому обумовлює об'єктивну потребу в удосконаленні професійної підготовки працівників поліції, формуванні професійно значущих якостей починаючи з етапу навчання курсантів у вищих навчальних закладах. Отримані результати дослідження свідчать про необхідність диференційованого підходу до визначення комплексу професійно важливих якостей особистості працівників поліції підрозділів превентивної діяльності та їх розвитку у процесі професіогенеза, створення дієвих програм психологічного супроводження професійної діяльності працівників підрозділів превенції.
The article presents the results of the study on some professionally significant personal qualities of preventive unit employees of the National Police of Ukraine, who are at different stages of professional genesis: cadets of the first and the last year of study, police officers with five years of service. Modernization of the law enforcement system causes an objective need to improve the professional training of police officers and to form their professionally significant qualities and properties starting from the stage of university cadets. The analysed research results give us an opportunity to suggest that all probationers demonstrate the presence of such qualities as: decisiveness, responsibility, mental ballast, criticality, perseverance, communicability, insistence on high standards for themselves and others, they are able to control their behaviour and actions, have circumspectness, can control their feelings, have sufficient adaptive capacity, but may show aggressiveness and inclination to risk. The first-year cadets idealize their future profession. They are creative, emotional and impulsive, open to feelings of other people. The graduate cadets, in the majority, have the formed professional orientation and psychological readiness for professional work. They are purposeful, initiative, confident that they can improve the quality of life and achieve a high social status through professional work. Police officers with professional experience are dissatisfied with their work, experience internal discomfort associated with professional and family overloads, which are typical for police officers in general at this stage of professionalization. They realistically assess their professional perspectives; getting higher education with specific training conditions is one of the ways to solve the problem of dissatisfaction with themselves or their life situation in general. The study results indicate the need for the differentiated approach to determination of a set of professionally important personal qualities important for preventive units employees of the National Police of Ukraine and development of these qualities at the professional path.
Представлены результаты изучения некоторых профессионально значимых качеств личности работников подразделений превентивной деятельности Национальной полиции Украины, поскольку модернизация правоохранительной системы в целом обуславливает объективную потребность в усовершенствовании профессиональной подготовки работников полиции, формировании профессионально значимых качеств начиная с этапа обучения курсантов в высших учебных заведениях. Полученные результаты исследования свидетельствуют о необходимости дифференцированного подхода к определению комплекса профессионально важных качеств личности работников полиции подразделений превентивной деятельности и их развития в процессе профессиогенеза, создании действенных программ психологического сопровождения профессиональной деятельности работников подразделений превенции.
Description
Шевченко, Л. О. Професійно - особистісні якості працівників підрозділів превентивної діяльності Національної поліції на різних етапах професійного становлення / Шевченко Лариса Олександрівна, Шломін Олександр Юрійович // Психологічний часопис. - 2019. - Т. 5, № 10. - С. 143-155. - DOI: https://doi.org/10.31108/1.2019.5.10.10.
Keywords
Психологія. Рsychology. Психология
,
Наукові публікації. Scientific publications. Научные публикации
,
Україна. Ukraine. Украина
,
Юридична психологія. Legal psychology. Юридическая психология
,
Національна поліція України. National police of Ukraine. Национальная полиция Украины
,
National police of Ukraine
,
Национальная полиция Украины
,
поліція
,
police
,
полиция
,
працівник поліції
,
police officer
,
работник полиции
,
підрозділи превентивної діяльності
,
units of preventive activity
,
подразделения превентивной деятельности
,
професійно - особистісні якості
,
professional - personal qualities
,
профессионально – личностные качества
,
комунікабельність
,
communication
,
коммуникабельность
,
цілеспрямованість
,
purposefulness
,
целеустремленность
,
сумлінність
,
conscientiousness
,
добросовестность