European Court of Human Rights as a Guarantee of Observation the Medical Secrecy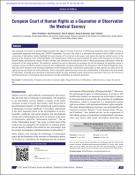 Publisher
Journal of Forensic Science and Medicine. – 2021. – Vol. 7, Issue 4 (October-December). – P. 145-151
Abstract
Європейська конвенція з прав людини проголошує право кожного на конфіденційність інформації про стан свого здоров'я, що є особливо актуальним під час пандемії COVID‑19. Метою дослідження є визначення сутності діяльності ЄСПЛ як гарантії інформаційної культури, висвітлення основних елементів його діяльності в цьому аспекті та аналіз права на лікарську таємницю в практиці Європейського суду з прав людини.
The European Convention on Human Rights proclaims the right of everyone to privacy of information about their state of health, which is a particularly important issue during the COVID‑19 pandemic. The aim of the study is to determine the essence of the ECtHR's activity as a guarantee of information culture, highlight the main elements of its activities in this aspect, and analyze the right to medical secrecy in the practice of the European Court of Human Rights. The formal‑logical method was used to analyze the norms of the European Convention on Human Rights, determine the content of basic concepts, and systematize the material in order to obtain generalizing conclusions within the framework of the stated problem. The predictive method was used to determine the prospects for the development of legislation aimed at creating a system of effective legal provision for the confidentiality of patient information. The European Court of Human Rights has more than once drew attention to the enormous importance of protecting personal, in particular medical data, so that a person can enjoy his or her right to private and family life with satisfaction. That is why public authorities must ensure the confidentiality of information about the health of individuals. It should not be disclosed or processed without the prior informed consent of the person concerned. There are a lot of cases of unlawful disclosure of information about the patient's health and liability for unlawful disclosure.
Европейская конвенция по правам человека провозглашает право каждого на конфиденциальность информации о состоянии своего здоровья, что особенно актуально во время пандемии COVID‑19. Целью исследования является определение сущности деятельности ЕСПЧ как гарантии информационной культуры, освещение основных элементов его деятельности в этом аспекте и анализ права на врачебную тайну в практике Европейского суда по правам человека.
Description
European Court of Human Rights as a Guarantee of Observation the Medical Secrecy / O. V. Prudnykova, V. M. Pyvovarov, O. V. Fedosova, O. A. Stasevska, O. V. Umanets // Journal of Forensic Science and Medicine. – 2021. – Vol. 7, Issue 4 (October-December). – P. 145-151. – DOI: 10.4103/jfsm.jfsm_70_21.
Prudnykova OV, Pyvovarov VM, Fedosova OV, Stasevska OA, Umanets OV. European Court of Human Rights as a guarantee of observation the medical secrecy. J Forensic Sci Med 2021;7:145-51.
Keywords
Міжнародне право .International Law. Международное право
,
Наукові публікації. Scientific publications. Научные публикации
,
confidentiality
,
European convention on human rights
,
illegal disclosure of information
,
medical secrecy
,
respect for private life
,
publikatsii u Scopus
,
конфиденциальность
,
Европейская конвенция о правах человека
,
незаконное раскрытие информации
,
врачебная тайна
,
уважение частной жизни
,
конфіденційність
,
Європейська конвенція з прав людини
,
незаконне розголошення інформації
,
лікарська таємниця
,
повага до приватного життя