Особливості призначення й проведення судових експертиз у ході розслідування злочинів у галузі цукрового виробництва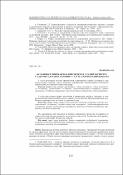 Authors
Publisher
Науковий вісник публічного та приватного права. - 2016. - Вип. 6, ч. 2. - С. 162-167
Abstract
Розглянуто питання призначення й проведення судових експертиз у ході розслідування злочинів у галузі цукрового виробництва. Проаналізовано особливості виробництва, постачання й зберігання цукру.
The appointment and conduction of forensic examinations during the investigation of crimes in the area of sugar production are reviewed in the article. Peculiarities of the production, delivery and storage of sugar are analyzed.
Рассмотрен вопрос назначения и проведения судебных экспертиз в ходе расследования преступлений в сфере сахарного производства. Проанализированы особенности производства, поставки и хранения сахара.
Keywords
цукор
,
цукрове виробництво
,
судова експертиза
,
розслідування злочинів
,
sugar
,
sugar production
,
forensic examination
,
crime investigation
,
сахар
,
сахарное производство
,
судебная экспертиза
,
расследование преступлений
Citation
Іванцова, О. В. Особливості призначення й проведення судових експертиз у ході розслідування злочинів у галузі цукрового виробництва / Іванцова О. В. // Науковий вісник публічного та приватного права. - 2016. - Вип. 6, ч. 2. - С. 162-167.