Криминалистическое исследование металлов, сплавов и изделий из них : научно-практическое пособие для экспертов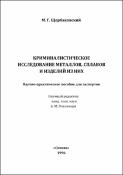 Publisher
Xарьков: Основа, 1996. - 116 с.
Abstract
Автором разработана классификация свойств, признаков металлов и сплавов как объектов экспертного исследования, рассмотрены особенности применения стандартов и нормативно-технических документов в криминалистической экспертизе металлов и сплавов. Описаны методы и методические схемы криминалистического исследования металлов и сплавов. Даны рекомендации по оформлению заключения эксперта. Пособие предназначено для научных и практических работников.
The author has worked out a classification of properties, signs of metals and alloys as objects of forensic examination, considered the features of the application of standards and normative-technical documents in the forensic examination of metals and alloys. Methods and methodological schemes of forensic research of metals and alloys are described. Recommendations for drawing up an expert opinion are given. The manual is intended for scientists and practitioners.
Автором розроблено класифікацію властивостей, ознак металів та сплавів як об'єктів експертного дослідження, розглянуто особливості застосування стандартів та нормативно-технічних документів у криміналістичній експертизі металів та сплавів. Описані методи та методичні схеми криміналістичного дослідження металів та сплавів. Надано рекомендації щодо оформлення висновку експерта. Посібник призначений для наукових та практичних працівників.
Description
Щербаковский, М. Г. Криминалистическое исследование металлов, сплавов и изделий из них: науч.-практ. пособ. для экспертов / М. Г. Щербаковский, [науч. ред. А. М. Пчелинцев; Ун-т внутр. дел]. – Xарьков: Основа, 1996. – 116 с. – ISBN 5-7768-0349-7.
Keywords
Криміналістика. Criminalistics. Криминалистика
,
Україна. Ukraine. Украина
,
Науково-методичні видання. Scientific and methodical publications. Научно-методические издания
,
металлы
,
метали
,
metals
,
криміналістичне дослідження металів та сплавів
,
криминалистическое исследование металлов и сплавов
,
forensic investigation of metals and alloys
,
криміналістична експертиза
,
криминалистическая экспертиза
,
forensic examination
Citation
Щербаковский М. Г. Криминалистическое исследование металлов, сплавов и изделий из них: науч.-практ. пособие для экспертов. - Xарьков: Основа, 1996. - 116 с.