Антикорупційна кримінологія у руслі духовно-ціннісної парадигми: етико-виховний зріз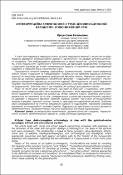 Publisher
Нове українське право. – 2022. – Вип. 4. – С. 83-94
Abstract
Розглянуто морально-етичні аспекти подолання корупції з акцентом на формування державної антикорупційної ідеології (кримінології) на засадах духовно-ціннісного складника. Порушено питання природи корупційних проявів через виявлення смислу понять «корупція» та «хабарництво». Відзначено, що мовчазне ставлення суспільства до корупції сформувало небезпечний феномен – «корупційну культуру». Наголошено, що для її подолання потрібен постійний міждисциплінарний аналіз (дискурс) наукових практик шляхом виявлення (відшукання) благочестивості. Особливу увагу зосереджено на залученні інститутів громадянського суспільства (журналістського корпусу) та держави у вирішенні багатьох проблем корупції шляхом підготовки антикорупційних практик (програм, стратегій, планів і тактик) з урахуванням корупційних ризиків, а також на інституті викривачів корупції та подальшому науковому супроводі державної антикорупційної політики України. Порушено оригінальні аспекти розкриття кримінологічного (психологічного) портрета особистості злочинця-корупціонера.
The article deals with moral and ethical aspects overcoming corruption with emphasis on the formation of the state anti-corruption ideology (criminology) on the basis of the spiritual and value component. This construction is based on three concepts: value-ideological, ethical-moral and, in addition, theological-theological, and criminological and theological, where appropriate prevention and fight against corruption calls to the "minds" of the bureaucratic apparatus and population regarding the transformation of consciousness in much more pious states.Issues of the nature of corruption (criminogenic) manifestations are raised by revealing the meaning of the concepts "corruption" and "bribery". The problem of moral (ethical) corruption is updated as a mechanism for speeding up (solving) many issues. Silent attitude of society towards corruption formed a dangerous phenomenon – "corruption culture". Various approaches to the definition of corruption are considered. It is emphasized that it is necessary to overcome it permanent interdisciplinary analysis (discourse) scientific practices by identifying (finding) piety, which needs updating for the general public. If you do not conduct an effective spiritual and value opposition and struggle with corruption, this very thing the universal status of the specified phenomenon is evidenced, when regulations are found to be ineffective and it remains to appeal to the voice (Law) of Conscience. Special attention is focused on involvement of civil society institutions (journalistic corps) and the state of solving many problems of corruption by preparing anti-corruption practices (programs, strategies, plans and tactics) taking into account corruption risks. Special attention is focused on the institution of corruption whistleblowers and further scientific support of the state anti-corruption policy of Ukraine. The original aspects of the disclosure of the criminological (psychological) portrait of the personality of the criminal-corruptor are violated.
Рассмотрены морально-этические аспекты преодоления коррупции с акцентом на формирование государственной антикоррупционной идеологии (криминологии) на основе духовно-ценностной составляющей. Затронуты вопросы природы коррупционных проявлений через выявление смысла понятий «коррупция» и «взяточничество». Отмечено, что молчаливое отношение общества к коррупции сформировало опасный феномен – «коррупционную культуру». Особое внимание сосредоточено на привлечении институтов гражданского общества (журналистского корпуса) и государства в решении многих проблем коррупции путем подготовки антикоррупционных практик (программ, стратегий, планов и тактик) с учетом коррупционных рисков, а также институте обличителей коррупции и дальнейшем научном сопровождении государственной антикоррупционной политики Украины. Выделены оригинальные аспекты раскрытия криминологического (психологического) портрета личности преступника-коррупционера.
Description
Кріцак, І. В. Антикорупційна кримінологія у руслі духовно-ціннісної парадигми: етико-виховний зріз / Кріцак Іван Васильович // Нове українське право. – 2022. – Вип. 4. – С. 83-94. - DOI: https://doi.org/10.51989/NUL.2022.4.13.
Keywords
Кримінологія. Criminology. Криминология
,
Наукові публікації. Scientific publications. Научные публикации
,
Україна. Ukraine. Украина
,
корупція
,
corruption
,
коррупция
,
антикорупційна кримінологія
,
anti-corruption criminology
,
антикоррупционная криминология
,
духовно-ціннісний складник
,
spiritual and valuable component
,
духовно-ценностная составляющая
,
морально-етичні аспекти
,
moral and ethical aspects
,
морально-этические аспекты
,
кримінотеологія
,
criminotheology
,
криминотеология
,
ідеологія
,
ideology
,
идеология
,
особа злочинця-корупціонера
,
person of a corrupt criminal
,
личность преступника-коррупционера