Напрямки удосконалення законодавства щодо бюджетного контролю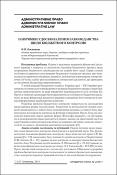 Authors
Publisher
Юридична наука. - 2011. - № 2. - С. 134-141
Abstract
Доведено необхідність розробки закону про бюджетний контроль та впровадження в практику бюджетної діяльності Стандартів державного бюджетного контролю, які визначать елементи його процедури.
On the basis of analysis of budgetary legislation and modern works in science of financial right the necessity of development of law on budgetary control is proved and introduction of budgetary activity of Standards of state budgetary control, which will determine the elements of its procedure in practice.
Доказывается необходимость разработки закона о бюджетном контроле и внедрения в практику бюджетной деятельности Стандартов государственного бюджетного контроля, которые определят элементы его процедуры.
Keywords
бюджетний контроль
,
budgetary control
,
бюджетный контроль
,
законодавство
,
legislation
,
законодательство
,
бюджет
,
budget
,
бюджетний процес
,
budget process
,
бюджетный процесс
,
Стандарти державного бюджетного контролю
,
Standards of state budget control
,
Стандарты государственного бюджетного контроля
Citation
Гетманець, О. П. Напрямки удосконалення законодавства щодо бюджетного контролю / О. П. Гетманець // Юридична наука. - 2011. - № 2. - С. 134-141.