The ethno-religious terrorism: concepts, trends, factors and counteraction strategy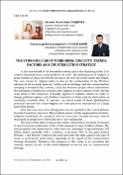 Publisher
Вісник Кримінологічної асоціації України. – 2022. – № 1 (26). – С. 102-115
Abstract
Стаття присвячена аналізу змісту концепту етнорелігійного тероризму, розгляду основних тенденцій його проявів, факторів, що зумовлюють їхнє формування. У заключній частині запропоновано комплекс заходів стратегічного характеру, спрямованих на протидію етнорелігійному тероризму на глобальному та національному рівнях.
The article is devoted to the analysis of the content of the concept of ethno-religious terrorism, the consideration of the main trends in its manifestations, the factors that determine their formation. The final part proposes a set of strategic measures aimed at countering ethno-religious terrorism at the global and national levels.
Статья посвящена анализу содержания концепта этнорелигиозного терроризма, рассмотрению основных тенденций его проявлений, факторов, обуславливающих их формирование. В заключительной части предложен комплекс мер стратегического характера, направленных на противодействие этнорелигиозному терроризму на глобальном и национальном уровнях.
Description
Gladkova, Ye. O. The ethno-religious terrorism: concepts, trends, factors and counteraction strategy / Ye. O. Gladkova, O. V. Olishevskyi // Вісник Кримінологічної асоціації України. – 2022. – № 1 (26). – С. 102-115.
Keywords
етнорелігійний тероризм
,
Кримінологія. Criminology. Криминология
,
Наукові публікації. Scientific publications. Научные публикации
,
тероризм
,
нація
,
релігія
,
насильство
,
терроризм
,
нация
,
религия
,
насилие
,
terrorism
,
nation
,
religion
,
violence
,
ethno-religious terrorism
,
этнорелигиозный терроризм